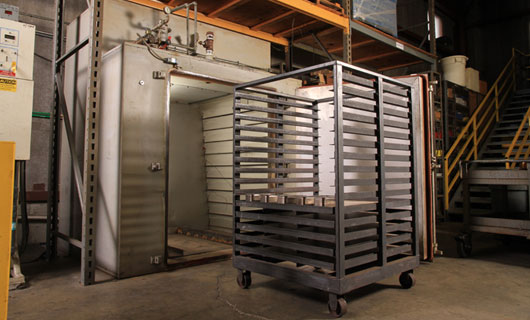 EN Processing Capabilities
Part Size
Weight
EN Specifications
Heat Treat Specifications
Up to 42" L x 22"W x 28"H
Up to
800 lbs.
ASTM B733



Class 1, 2, 3, 4, & 5

Same
Same

AMS 2404


Class 1, 2, 3, & 4

Same
Same
AMS-C-26074

(MIL-C- 26074)

Class 1, 2, 3, & 4

Same
Same
AMS 2454
Class 1, 2, 3, & 4


Same
Same
PS 5009

Class 1, 2, 3, 4, 5, & 6

Heat Treatment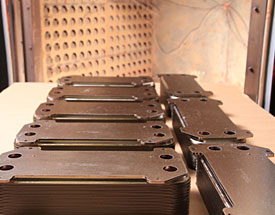 Val-Kro has in-house post plating heat-treating capability for large and small products and can also perform Hydrogen Embrittlement Relief batching when specified per ASTM B849 and ASTM B850. Val-Kro also offers inert atmosphere heat-treating when necessary to prevent discoloration during the post plating heat-treating process.
Rack Plating, Barrel Plating, and Wire Plating Capabilities
Rack Plating is available for parts where avoidance of part-to-part contact is necessary. It provides good thickness distribution.
Barrel Plating is a process where a quantity of small parts are slowly tumbled in a barrel-shaped cage that is submerged in the plating solution.
Wire Plating is available when dedicated tooling is not available; parts can be rigged with wire for processing.
Masking
Val-Kro offers a variety of masking techniques that allow for the selective plating of blind holes, bearing surfaces, deep bores, threads, and more. These range from basic plugs and tapes to fine painted masking.